BACK
We welcome you at Hotel GUESTapart to a unique hotel world, where setting, design and atmosphere all harmonise and homely comfort meets the best of an exclusive hotel. Our ground principles of our concept is the idea of Home away from home, and our ambition is that every guest is leaving with an unforgettable experience.
Our facilities are of the highest quality, and we are experts at customizing meetings, conferences and events that match specific needs. Our raw, modern conference rooms are furnished with the newest, most user-friendly IT-equipment, which makes any type of meeting handier. The combination of our unique surroundings, fantastic gastronomy and extraordinary service makes it possible to host events on a whole new level.
Traffic connections
The tram takes you almost straight to the door. The station is only 100 meters away from the hotel from where it takes 15 minutes to get to Aarhus Central Station. The buses 6A and 2A are only a 5-minute walk away from the hotel.
The hotel is located only 5 kilometers from highway E45 and if you arrive by plane there are 30 kilometers from Aarhus Airport to Hotel GUESTapart.
We have 91 free parking spaces including 4 charging stations.
Rooms
Hotel GUESTapart has 86 fully equipped design apartments - each with its own unique details. The style is eclectic where raw materials and industrial design are combined with soft fabrics, art and colors. The unique style is combined with Danish design such as B&O, which brings the Danish element into play. All together, this gives the perfect combination of exclusive hotel apartment and a homely feeling.
All apartments have a large bathroom, exclusive toiletries, towels, hair dryer, own kitchen with all that belongs, design furniture, B&O TV and original art on the walls. The smallest apartments are 30 square metres.
Capacity
Hotel GUESTapart has two plenum rooms with room for 80 and 120 people when chairs are placed in rows. In total we have 9 meeting rooms where you can host smaller or larger events.
The hotel has free Wi-Fi and all conference rooms and apartments has their own private connection.
Facilities
Hotel GUESTapart has 9 different and flexible meeting and conference rooms with enough space for up to 120 people. The meeting rooms are, just like the rest of the hotel, organized with raw materials which are softened by comfortable furniture and smooth details. Each room contains the newest IT-equipment which is as user-friendly as it gets. Our sustainable food concept has a large focus on offering nutrition for both body and soul and can be tailored for your needs.
Our exclusive fitness facilities offer different types of training and equipment. Furthermore, the fitness area includes regular sauna, infrared sauna and cold rinse.
Services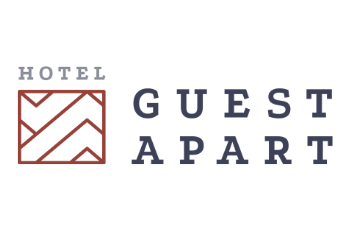 Rooms
Single Rooms 0
Double Rooms 80
Handicap friendly rooms 7
Suites 6
Accomodation 216
Capacity
Plenum 9
Max number of chairs in lines 120
Max number of chairs at tables 68
Group rooms 0
Catering
Restaurant Yes
Dining guests 60
Dining seats in restaurant 60
Dining seats in private room 60
Facilities
Bar Yes
Lounge Yes
Billiard/dart/bordtennis/etc No
Spa No
Pool No
Fitness room Yes
Casino No
Green outside areas Yes
Golf No
Aircondition No
Chef school No
Transport
Distance to airport 30 km
Distance to train station 0 km
Distance to bus 1km
Free parking 87
Distance to free parking 0 km