BACK
Unique rooms
with soul and history for meetings and conferences in the heart of Copenhagen
Kosmopol is located
right in the heart of Copenhagen just 50 meters from Nørreport Station and
thus with easy access to and from our venue via metro
and S-trains.
We are close to Copenhagen's
central gourmet food market Torvehallerne, the Botanical Gardens
and Rosenborg Castle Gardens (the oldest and most visited park in central
Copenhagen).
Our venue formerly housed Copenhagen's
first Merchant School (1902-2000), and since 2000 we
have welcomed guests into our stylish meeting rooms.
All meeting and conference rooms are equipped
with modern AV equipment and beautifully decorated with modern
Scandinavian design classics respecting the historical and original
interior.
Kosmopol welcomes both business- and
leisure guests. End your conference with a reception, dinner, or party in
our beautiful Banquet Hall.
We look forward to welcoming you and
your guests.

Traffic connections
Only 50 meters from
Nørreport Station
Kosmopol is located 1 minutes' walk from
Nørreport Station – Copenhagen's most centrally positioned station with easy
access to several bus lines, metro, regional and S-trains.
We unfortunately do not have any parking
spaces, but recommend using the parking garage underneath Israels Plads (run by
Q-Park).
Rooms
We only offer meeting and conference rooms, but we work closely together with different hotels nearby. Thus, let us connect you to our hotel partners and you can enjoy the short scenic tour from the hotel to Kosmopol.
Capacity
Our facilities are modern and spacious and we can assist you with space for both the small meeting and larger conferences.
Our meeting spaces range from 4 to 225 persons, with max capacity of 180 persons in cinema style and 160 persons cabaret style.
Facilities
All meeting spaces are equipped with
- projector and screen
- pc
- wifi
- sound system
- selection of microphones where needed (depending on the size of the meeting room)
Our Meeting Hall furthermore has a stage, lectern and monitor.
In connection to several of our meeting rooms you will find small informal lounges with soft seating where you can relax.
Services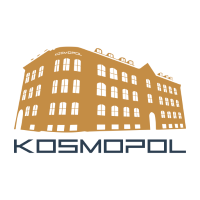 Rooms
Single Rooms
Double Rooms
Handicap friendly rooms
Suites
Accomodation
Capacity
Plenum 8
Max number of chairs in lines 200
Max number of chairs at tables 160
Group rooms 5
Catering
Restaurant No
Dining guests 200
Dining seats in restaurant 0
Dining seats in private room 200
Facilities
Bar No
Lounge No
Billiard/dart/bordtennis/etc No
Spa No
Pool No
Fitness room No
Casino No
Green outside areas Yes
Golf No
Aircondition No
Chef school No
Transport
Distance to airport 9 km
Distance to train station 0 km
Distance to bus 0km
Free parking 0
Distance to free parking km